Content:
Activities & worksheets are by letter.
Subject matter not limited to bullying.
Content can be used in the classroom.
Everything can be photocopied, and permission is marked on each page.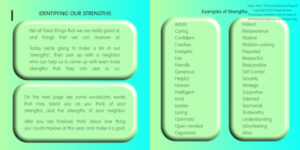 activities & worksheets
more than just on the topic of bullying
I was discussing education yesterday with someone connected to the local school board, and I showed her how the 75 pages of activities and worksheets are connected in The Anti-Bullying Project. Each activity (A-Z) matches up with an exercise with the same letter.
The subject matter of the activities and worksheets in this book isn't limited to the topic of bullying. The book incorporates: 1) emotions & interactions, 2) self-awareness, 3) problem-solving, and 4) role models, as subjects of the activities and discussion. I highly recommend this book for anyone looking for worksheets they can copy for more than one student, as I've given permission to copy them for educational purposes.
This is a time of adaptation, now the world is starting to open up again, and many children are headed back to school. The last couple of years has been a struggle for many of them, learning at home in isolation. Boredom, anxiety, and social deprivation are some of the issues they have been faced with. The transition back to "normal life" (well, our new norm) will be a challenge, and it is my hope that these tools will help you, whether in the classroom, on Zoom, or at home.
I've been so excited about the launch of "Kids & COVID Questions"! You can get a free PDF copy for educational use on my Home page. The second half of the video gives instructions on how to do the worksheets, and explains how they are connected to each other.